Haven for climbers in Bosnia and Herzegovina
The geographical position of Blagaj, the pleasant climate and the sector's orientation have enabled the climbing season to last throughout the whole year. The French scale is used to grade the routes in the Blagaj climbing area. Variety of styles will satisfy every climber, from old school slabs with small crimps that require maximum precision and finely tuned leg work, to completely modern a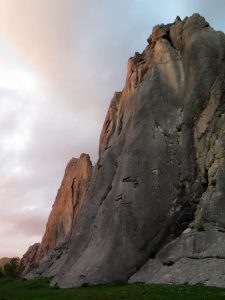 thletic overhang/roof routes.
The Rebro and Šube sectors are climable throughout the whole year. Sectors Pejotl (A), Pčelinjak (B), Ljut (C), Crvena stijena (D), Duga peć, Karantena (E) and Vučije točilo are excellent for winter, because they are mostly in the sun and if the wind is not too strong, you can climb in a t-shirt. During the summer, it becomes unbearably hot in these sectors after 12 o'clock. You can then move on to the canyon sectors Hladovina (H), Publika (F) and Ispod-Vodopanac (I) which usually have little wind and offer different orientations that provide shade. If you are still hot, you can go and visit the nearby Tekija (national monument) and the source of the Buna river to cool off. It is probably one of the coldest waters you will ever stumble upon.
If you have an affinity for slackline, there are variety of options and amazing potential for waterlines (natural gem rivers Buna and Bunica). Relatively new slackline community is also working on bringing awareness of river and enviroment protection.
  Blagaj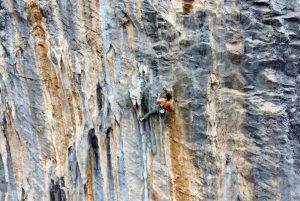 The gentle grove (blagi – gaj) attracts many travelers, adventurers and climbers because of its special atmosphere and ambience. In addition to the richness of cultural and his
torical heritage, flora and fauna, nature has fascinatingly p
layed with geological forms, which provides a real playground for all ages when viewed from a climber perspective.
In a relatively short period of time, the canyon and the Blagaj rocks came to life. Many young people who come from the area, and did not know climbing as a sport, became aware of the enormous potential that this place has. In addition to tourists and foreigners who come to Blagaj more and more often, it is a significant awakening of the local scene and that young people who live here are beginning to use and know how to appreciate the beauty that is at their fingertips.
Climbing in Blagaj
Climbing in Blagaj offers equal enjoyment in climbing for both, beginners and experienced climbers. For beginners, reliable and mostly compact fours and fives are reserved, and for more experienced and stronger climbers, a wide range of different climbing styles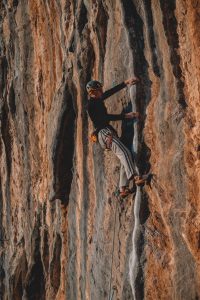 is offered, with routes in 6, 7 and even 8 grades! Blagaj currently about 170 climbing routes, with that number growing almost on a daily basis.
Also, in case you have never tried climbing multi-pitches, this is an ideal place to try it in a safe and comfortable environment. The Duga peć sector, which has only multi-pitch routes, is located just above the source of the Buna river, the largest karst spring in Europe. On the top of these routes, watching sunset in front of the Green Cave (natural monument from the paleolithic era) is absolutely amazing.
Camping in Blagaj
From a wide offer of camping places in Blagaj, we would definitely recommend River Camp Aganovac, River Camp Bara, and the Eco Center Blagaj – climbing base located just under the crag. Here you can rent all the necessary equipment for climbing, Via ferrata, or a climbing guide. Welcoming hosts will make sure that your stay in Blagaj becomes epic!
                                                                              Local initiatives
Bolting new routes – local crew is always trying to expand existing sectors with new routes and to open new sectors. During the COVID 19 pandemic, new sector Karantena was opened with 7 new routes, all of them classics in their grade. As we are writing this, the local climbing crew SPK Blagaj are bolting new routes in the two best performing sectors, Šube and Vučije točilo. Potential is huge! Just between Blagaj and Mostar there is a potential for bolting thousands of routes. The only limiting factor are the funds for bolts, hangers and gear in general. Hopefully with the help of international climbing community this could be changed.
Bivouac at sector Rebro – the idea for building the bivouac came from ASPK Neretva and it was supported by all the local climbers who volunteered during the construction but also helped to collect the funds and materials needed for building the bivouac. Such a great construction required a lot of work and dedication, a lot of challenges were successfully accomplished thanks to skillful and hardworking hands.
www.blagaj-climbing.com, www.novival.info.